This year, Bidmath continued the tradition of contributing with the faculty of Journalism and Mass Communication (B.J.M.), Thammasat University in the Digital Strategy curriculum to conduct a lecture and quiz for the students virtually.
The digital media session topics covered the understanding of data, how to optimize them in the business, as well as the customer journey and the tracking. Aimed for the student audience, examples of real use cases and optimisation methods were showcased to assist the students in the future career scenarios where this might be useful. 
Since the digital era drives the media and advertising industry to shift towards digital marketing, it is essential for media studies students to understand the basics of data in order to utilize the data in their future careers. Especially with the ever changing landscape of data privacy and regulation where students moving into this field are required to understand and have a good knowledge and understanding of how we use data on behalf of customers.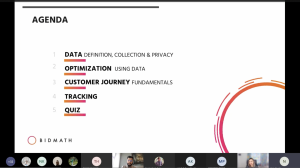 After carrying out an interactive quiz with over 40 students spanning questions around first-party data, media activation and platform optimisations. Students worked against the timer to answer multiple choice and true or false questions compiled to win a prize. 
Below are the top three winners from a data-driven marketing quiz, we thank everyone for their time and effort in contributing to the quiz and with such a high score overall.